---

Hello! Aledon Rex here!
I'm a furry/anthro freelance artist, and I work primarily with 2D digital software. My main artistic influence comes from anime, manga and kemono artists. I have special fondness in drawing fanarts of characters I like for personal satisfation as well as depicting Japan themed illustrations, from past times to contemporary age.
You can find me on:
PATREON - FURAFFINITY(personal) - FURAFFINITY(work) - TWITTER(personal) - TWITTER(work) - PIXIV
---
Before commissioning me, please read my terms of service!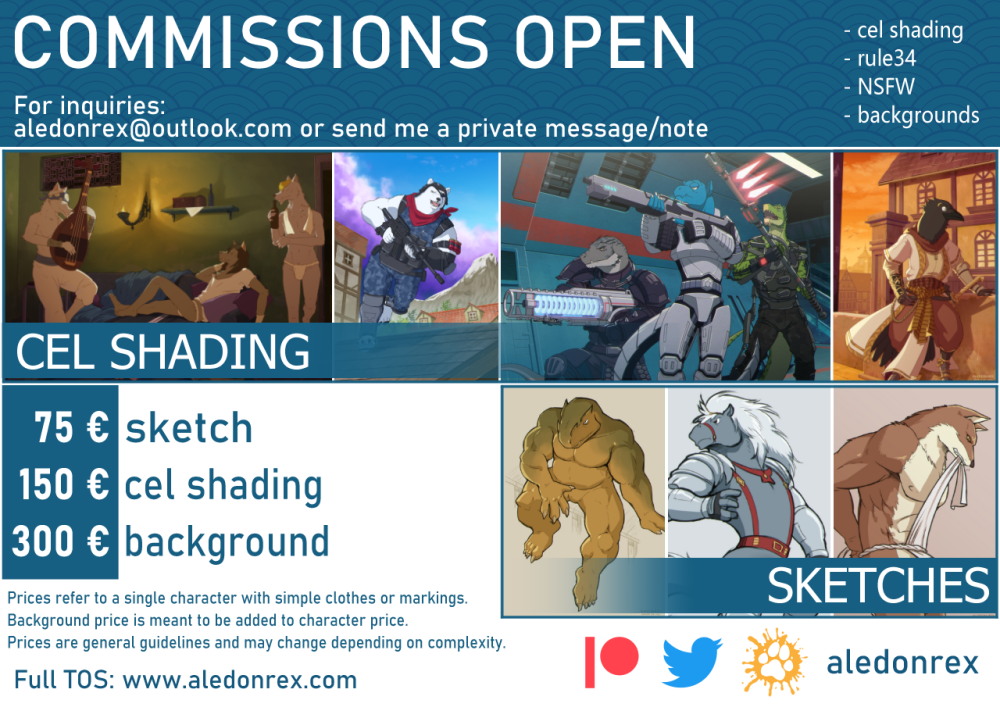 commission progress can be found in this trello board
---
For info and quotes feel free to send me a Twitter DM, a Furaffinity note or contact me at: aledonrex[at]outlook.com
---
General:
I prefer to accept commissions through this e-mail address aledonrex[at]outlook.com but you can also use Furaffinity notes or Twitter DM

Please send a clear and brief description of the commission you're requesting including any useful reference pictures.
I prefer not to work from written descriptions.

Changes based on your taste, indecision, due to ambiguous descriptions, incorrect or missing information, will be charged an extra fee. This doesn't apply to mistakes made by me.

NO ALTERATIONS OF MY WORKS ARE PERMITTED WITHOUT MY EXPLICIT CONSENT

Commissions are strictly reserved to people above the age of 18.
Prices & Payment
Prices are not negotiable, so please do not ask for discounts.

I am willing to keep your commission private for an extra 50% fee. If you simply want to remain anonymous no extra fee will be applied.

I reserve the right to charge extra depending on subject complexity.

Payments are accepted through Paypal only. Once I know your paypal address I will send you an invoice for payment.
Refunds:
I will draw the following:
Anthro or human/humanoid characters. Ask if you're unsure whether your character applies or not.

Original characters as well as rule34.

Non anthropomorphic characters (ferals, animal, dragons...etc) are not my strong point and will be evaluated on a case by case basis.
I will NOT draw the following:
Hateful, racist, sexist or any other harmful subjects.

Excessive violence, mutilation, gore, vore.

Watersports, scat and vomit.

Underage or underage looking characters involved in nudity or sexual situations.

Rape and any kind of non consensual situations.

I might decline to draw characters or subjects that I feel would not translate well in my style.
Work In Progress:
WIPs are shown at sketch stage, lineart stage and when fully colored.
After receiving the WIP, please take your time and carefully examine the picture and let me know all the desired changes in a SINGLE message.
Any further changes might be charged extra at my discretion.

Artist's rights:
I reserve the right to not accept any commission, without owing any explanation.

I reserve the right to terminate our agreement at any time, if I am unable to complete the work, the client's behavior becomes inappropriate and rude, or if the communication is problematic.

I reserve the right to choose whether or not to upload (or delete) the commissioned image in my gallery for any reason.

Commercial use of the commissioned art will incur in an extra licensing fee negotiated on a case by case basis, otherwise you're allowed to post and use it freely.

I reserve the right to upload the high resolution version of commissions on my Patreon.
Client's rights:
You can use the commissioned image for any non commercial uses without removing my signature.

Commercial use of the commissioned art will incur in an extra licensing fee negotiated on a case by case basis, otherwise you're allowed to post and use it freely.

The client does NOT hold the right to use the product in any blockchain-related technology, including NFTs, cryptocurrency, or future inventions in the space.
---